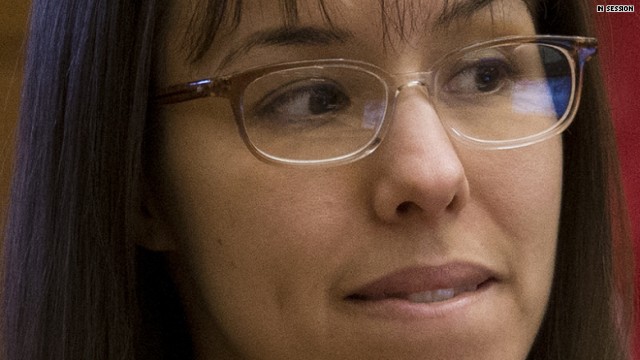 Heather Piedmont assesses four ways to watch the case
On a June day in 2008, motivational speaker Travis Alexander was found dead in his own Mesa, AZ bathroom by friends, stabbed and shot. Days later, his former girlfriend Jodi Arias was apprehended and is currently on trial for first-degree murder.
In the beginning, Arias flip-flopped on whether she was at Alexander's home on the last day of his life and, when she finally admitted to being present, whether she'd committed the crime. First she stated she was nowhere in the vicinity; then, when faced with her DNA found at the crime scene, Arias conjured up two individuals who broke in and attacked them both.
Did Arias commit murder, or defended herself against an abusive ex-lover? Thanks to the lying, the ongoing changes to her eyewear and clothing during the trial, and other strange actions Arias continues to take, she has been compared to such criminal media mavens as Casey Anthony and Scott Peterson. But there are as many angles on her case as she has pairs of glasses. Let's look at just a few, and compare how well they cover the Arias case and trial.
Nancy Grace
In both her daily and weekly programs, the former prosecutor is giving her own professional point of view, as well as those of other legal experts, when she "unleashes the lawyers." This offers a more strategic perspective, via the decades of legal experience available through the guests. Nancy even gets a bit more personal when she discusses aspects of the trial like what Arias is wearing and eating; she even visited Arias's jail, where she was able to break a story that Arias is lying to fellow prisoners about her crime. Grace gives a normal view of an ongoing court case, but also, thanks to firsthand experience, insight into what the lawyers may have been thinking when they asked certain questions or involved specific evidence.
Dr. Drew
Dr. Drew Pinsky has, unsurprisingly, a more psychological take on the case — from why Arias is exhibiting such a selective memory, to how her past factors in, to what the stories coming from former friends and colleagues of both Arias and her victim portray. One good example is a recent exclusive video HLN received of Arias and Alexander at a get-together. Not only did the video, showing Alexander discussing a near-death experience, illustrate Arias's constant need to be front and center attention-wise (she looked incredibly bored, and hardly even glanced at Alexander); it also gave the lie to her claims that Alexander didn't show her attention in public (Arias had her head in his lap with Alexander's hand around her). Through this and other evidence, Pinsky puts both victim and murderess in a different but just as bright light.
Jane Velez-Mitchell
Jane Velez-Mitchell seems to be a one-stop shop of sorts for the facts of and opinion on the case. Through interviews with assorted guests, such as the author of the upcoming book on the trial, as well as the legal eagles and psychological experts discussed above, Velez-Mitchell gives viewers a more expanded view of the case and a broader perspective.
48 Hours
The show's coverage hasn't been as consistent as the previous three throughout the trial, but 48 Hours's Arias interview was so important to the case itself that parts were used as evidence by the prosecutors. When Arias, then 29, was first incarcerated, 48 Hours covered the case for their weekly program. This gave America a peek at Arias's earliest statements (and lies), and how far the biggest lie (two killers who she escaped from) went before the camera and other evidence were found. Arias's feelings about her victim, at least on that day, are also presented, plus a one-time but very in-depth perspective on the relationship from people who saw it from beginning to end (this included the belief that Arias and Alexander would marry).
Who does it best?
To me, the murder of Alexander is a psychological tragedy. So, I like Dr. Drew's take. It's definitely a situation where an emotionally damaged woman responds horridly as a result to the denial of love. And though we'll never know, there could have been some emotional issues with Travis as well (although I do see him in the main as a victim who did not deserve to die; I don't buy the self-defense explanation at all). Nevertheless, thanks to these aspects of the case, Dr. Drew gives the most useful perspective on the case. We can look at the legalities of a case through many eyes, but it is a medically trained eye that can really look at the characters of a case, why they're there, and what it says about the human psyche.
Heather Piedmont, known for her no-nonsense responses to political issues, is now turning her attention to the courts. A former White House Intern and New Policy director, currently Piedmont is an adjunct professor for Liberty University and head columnist at BachmanontheBench.com, as well as legal commentator for NewsBlaze.com.